Meet Tom
Tom is a husband, father, business owner, entrepreneur, strategic advisor, management consultant, commercial realtor, community ambassador, and small business mentor.  Tom fights for what's right even when it's not popular. He's persistent in rooting out waste and inefficiency. Every day Tom wakes up craving a challenge. Nobody is more dedicated to solving local problems than Tom Kretz.
Tom has been married to his wife Kim for 32+ years and lived in the Beavercreek Community for 28+ years. Tom and Kim are graduates of Carroll High School. Their sons Joel and Eric attended Shaw and Fairbrook Elementary Schools and graduated from Beavercreek High School. Together, Tom and Kim owned and operated several area businesses, volunteered with youth, sports, school, church, and civic organizations, and raised their family Beavercreek Strong!
Joel went on from BHS to graduate from Marquette University, dual majoring in Economics & Finance, and obtained his MBA from Xavier University.  Joel currently resides in Columbus, OH where he works as a Manager of Global Finance for one of the largest quick-service restaurant chains in the world. 
Eric went on from BHS to graduate from the University of Pittsburgh, majoring in Emergency Medicine, and obtained his MD from the USUHS F. Edward Hebert School of Medicine in Bethesda, MD at Walter Reed Medical Center. Eric is a Captain in the USAF, a 1st-year Emergency Medicine Physician Resident, and married to his awesome wife, Kylie, a Pediatric Oncology Nurse.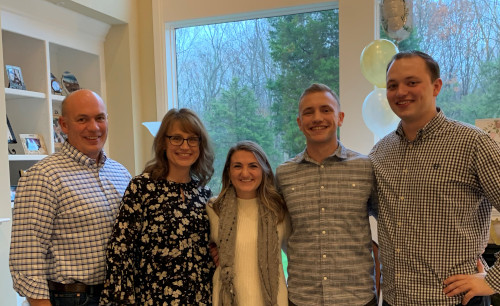 Overview
30+ years of business experience
Developed American based businesses in 38 countries
Responsible for over $650 million in revenue
Managed complex multi-million dollar projects
Developed and implemented strategic, operational, & logistics plans
Built teams of managers, supervisors, employees, & suppliers
Rooting out inefficiency & waste
Fighting for fiscal responsibility, accountability, and transparency
Current Professional Experience
Executive Vice President, Partner – Irongate Inc. Realtors ®

P & L Responsibility for $650MM in Revenue

President, K4 Management Group, LLC

Business Brokerage, Mergers & Acquisitions, Due Diligence, Transition Management
Executive Management Consulting, Strategic Planning & Succession Planning

Principal, K4 Properties, LLC

Retail, Medical, Industrial, Office & Self Storage Investment & Development
Past Professional Experience
Senior Commercial Sales, Leasing, & Development Realtor ®, Berkshire Hathaway
Managing Director, Coolidge Strategic Advisory Services
Developer / Owner, American Pride Self Storage
President, Sheffield Measurement USA / Serein Metrology (Shenzhen) Co. Ltd. – Hexagon Metrology
President / Founder – Berrysville Farms, LLC
President / Founder – Advanced Metrology Solutions
Managing Partner – Integrated Industrial Supply Company
Co-Founder & Managing Partner – Design & Build Specialty Stamping Automation Equipment OEM
Co-Founder & Managing Partner – Production Manufacturing Company
Founder & President – Commercial Vending Business
Director / VP- Procurement, Project Management, Aftermarket Sales
National Purchasing Manager – National Industrial Electrical Supply Company
Merchandising Manager & Senior Buyer – Retail / Wholesale
New Business Development